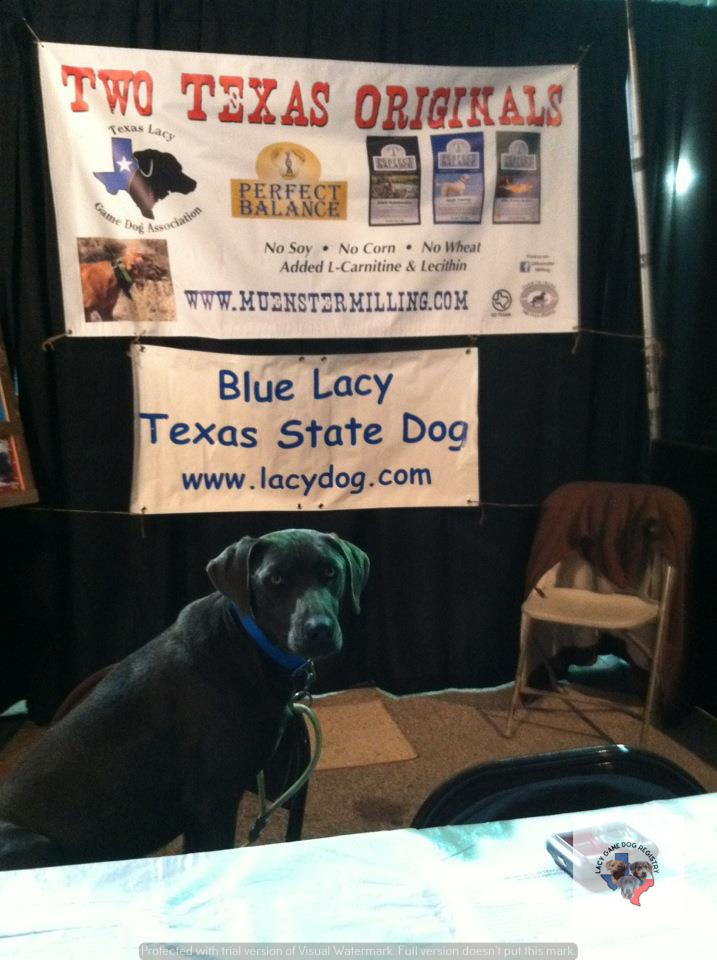 BREEDER Lacy Stud Information
LGDR and the Texas Lacy Game Dog Association (TLGDA) partner to protect the Blue Lacy breed's gene pool. The organizations work together to maintain breed unique characteristics and promote responsible ownership. Through their collaboration, LGDR and TLGDA help ensure Blue Lacy dogs' continued health and well-being. For instance, LGDR and TLGDA have a joint initiative to educate potential Blue Lacy owners about the breed's needs and temperament. In addition, they educate them on responsible breeding.
It is critical that only those knowledgeable about genetics, breeding, and the strengths of a sire and dam attempt to breed dogs. When done responsibly, breeding can result in a litter of puppies that become well-rounded, healthy, and well-socialized individuals. Quality breeders are members TLGDA with their pups registered with the official LGDR and strive for the highest ethical standards. Please reach out to them to discuss Stud services.
STUD APPLICATIONS ARE AVAILABLE
If you have a male you would like to offer for stud service please fill out the Contact Form and note in the message of your interest.
CURRENT LGDR DOCUMENTED BLUE LACY STUDS
Please also check the TLGDA Stud Services page as well.
---
| Owner | Owner 2 | Lastname | Kennel | Address | City | State | PostalCode | PhoneNumber1 | Email |
| --- | --- | --- | --- | --- | --- | --- | --- | --- | --- |
| Sandy | | Adcock | D-S | PO Box 501 | CROSBYTON | TX | 79322 | 806-773-0620 | [email protected] |
| Kristopher | | Anderson | Laguna Madre | 818 Mansfield Drive Unit 0177 | PORT MANSFIELD | TX | 78598 | 956-330-7855 | [email protected] |
| Doug | | Bullard | | PO Box 45 | UNION TOWN | KS | 66779 | 205-331-9527 | [email protected] |
| Franklin | | Crain | | PO Box 281 | CHEROKEE | TX | 76832 | 325-372-8595 | [email protected] |
| Greg | | Crain | | PO Box 1693 | BAY CITY | TX | 77404 | 979-479-1061 | |
| Lusty | | Crain | | PO Box 548 | BLESSING | TX | 77419 | 361-588-7391 | |
| Chris | | DuFour | | 1097 Sens Rd. | SEALY | TX | 77474 | 713-205-6562 | [email protected] |
| Richard Brett | | Huegele | | 207 Pasadena | VICTORIA | TX | 77904 | 361-576-5200 | |
| Mark | | Johnson | MCJ Kennels | PO Box 210 | DENNIS | TX | 76439 | 903-436-5239 | |
| Eddie | & Kimberly | Kerr | | PO Box 172 | GUY | AR | 72061 | 501-581-9640 | [email protected] |
| John | | Marshall | | 14405 FM 770 | SARATOGA | TX | 77585 | 936-274-5490 | [email protected] |
| Kevin | | Nowlin | | 18087 W. FM 2293 | FRANKLIN | TX | 77856 | 817-565-7693 | [email protected] |
| Todd | & Robin | Porter | | PO Box 385 | TRENTON | TX | 75490 | 903-815-0399 | |
| Jim | & Melony | Roche | Magnom | 707 HWY 277 | ELDORADO | TX | 76936 | 325-853-1555 | |
| Steve | & Tracey | Sadler | | 704 CR 263 A | CAMERON | TX | 76520 | 979-279-0733 | [email protected] |
| Patrick | & Toni | Searcy | | 24 Richard Wilson Rd. | ELMER | LA | 71424 | 318-729-4284 | [email protected] |
| Ben | | Streetman | | 4610 N. State Hwy. 19 | PALESTINE | TX | 75803 | 903-724-0781 | [email protected] |
| Michael | | Sullivan | | 6170 West St. HWY 7 | POLLOK | TX | 75972 | 936-212-2264 | [email protected] |
| Travis | | Walthall | | 319 Huckleberry Dr. | LAKE JACKSON | TX | 77566 | 979-549-6361 | |
| Brett | Karen & Cameron | Wright | | PO Box 189 | FALLS CITY | TX | 78113 | 830-745-2925 | [email protected] |