Lacy News for 222
April 23, 2022 is the TLGDA Lacy Fun Day in Lampassas, TX. More details to come.
---
February 18-20, 2022 Blood Trail Seminar at Concan, TX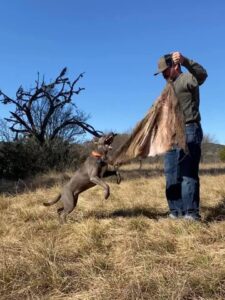 2022 Blood Trail Seminar Photo Album Link:
2022 TLGDA Blood Trail Seminar (shutterfly.com)
Quick link to Full Slide Show Section:
2022 TLGDA Blood Trail Seminar (shutterfly.com)
Summary of Weekend:
2022 TLGDA Blood Trailing Seminar and UBT Testing Event was a very successful and fun filled event, yet again! We had 91 attendees this past weekend.
. Thanks to all that worked so hard and to all the attendants as well. Big shout out to Andy's on River Road in Concan, TX. They truly go over and beyond to help us make this event such a success. I believe everyone feels Clay Montgomery was our MVP of the weekend as far as event staff. Everyone worked extremely hard, but last-minute Clay stepped up and led the charged making sure all 5 meals were ready to be served out to all, due to our Chef Robin Waltrip having a medical emergency the day before. We thank God that Robin is still with us
.
Big
Congratulations
to the (12) UBT 1's and the (3) UBT 2's who qualified to received certificates this past Sunday (2/20/22):
UBT 1 – Gregg Belcher w/ Rye
UBT 1 – Lori Belcher w/ Whiskey
UBT 1 – Christi Emmons w/ Tex
UBT 1 – Beau Harger w/ Cider
UBT 1 – Pete McCrary w/ Darla
UBT 1 – Tyler Mitchell w/ Zeus
UBT 1 – Fred Paine w/ Rhett
UBT 1 – Matthew Peine w/ Millie
UBT 1 – Aric Poole w/ Emma
UBT 1 – Tracey Sadler w/ Cowboy
UBT 1 – Chris Swindoll w/ Weet
UBT 1 – Trey Westall w/ Cash
UBT 2 – Todd Marxsen w/ Koda
UBT 2 – Madison Russell w/ Pecos
UBT 2 – Tim Young w/ Zeva
UBT is the Nationally accredited blood tracking evaluation test, which is mandatory to possess in some states just to legally track with your dog. Even if you don't pass the first time, it helps a tracker to evaluate their team and points out areas to work on. I'm very proud of all that are working hard to advance their team! Looking forward to the next event!
All UBT Judges that come and share their knowledge are a key part of the success to these teams as well
.
This year we had 3 Texas Judges (Myself, Kenny Wall & Kevin Nowlin) and 7 Out of State Judges (Cliff Shrader, Sean Timmens, JJ Scarborough, Katie Sanderson, Logan Duke & Tommy Strickland) giving hands on training for the purpose of advancing these teams for the betterment of the tracking community.