Please click the below link and watch this video to learn more about this amazing working breed, the LGDR and the TLGDA!

The official History of the Texas Lacy Game Dog – Video Link

History of the Lacy Game Dog Registry

Jack Franks was the first owner of the Lacy Game Dog Registry™. Until 1987, Mr. Franks inspected and registered all the Blue Lacy dogs within the LGDR. In '1987 the registry was sold to Raymond Trimble. Mr. Trimble is credited for all recorded registries from February 11, 1987, thru April 13, 1990, at which time, he handed over the registry to Larry Boyd. Mr. Trimble and Mr. Boyd worked as Government Trappers for the Texas Wildlife Department and used Lacys to assist them in their jobs. Years after Mr. Boyd accepted the responsibility for the registry, he contracted Lyme disease. Due to his illness, he was not able to meet the demands of the registry. In October of 1998, Boyd passed the torch to Marlo Riley, great-great granddaughter of Frank Lacy, one of the original Lacy brothers who developed the breed. December 2013 Marlo married Gary Ondrej and now signs all registries as Marlo Ondrej from that date on.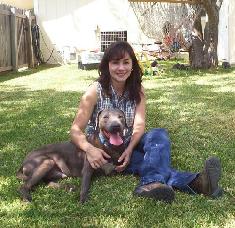 Marlo began gathering information about the breed from descendants of the Lacy brothers. Family members Helen Gibbs, Granville Lacy, R.L. Metzger, and Winifred Roque passed on important photographs and documents. Especially important were the oral histories, passed down from generation to generation.
Although not family members, life-long Lacy owners also helped Marlo document their history. Ruth Wilkes' father was the ranch foreman for George Washington Lacy and inherited some of the original Lacy land, where she resided until her passing. Her husband H.C. Wilkes is also well credited in the Blue Lacy breed and is listed in the "Hall of Fame" in Quinlyn, Tx for his work. Also, credited by the LGDR is Tom Graham, Gary Larremore & Brian Larremore. These three men have owned Lacy's from the time they were young boys and have unfailingly supported the breed. Their efforts are duly noted in the dogs you see today. The breed has survived strong, through the efforts of such men and women.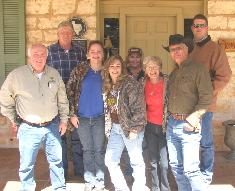 Affiliate Breed Club the Texas Lacy Game Dog Association (TLGDA) was formed to work in unison with the Lacy Game Dog Registry™ to help achieve its goal of preserving the Blue Lacy breed. It offers Lacy owners and others a community where members can share their interest in the breed. Members pay a small yearly fee and receive newsletters, access to an online forum, invitations to sponsored events, and very often friendship! The TLGDA is committed to educating new Lacy owners and those wanting to own Lacys about the characteristics typical of the breed. The TLGDA is led by a highly qualified board of directors who generously give their time to the Association. For additional information about the TLGDA, go to www.lacydog.com .(The picture above, is all but one of the 2007-2008 TLGDA Board of Directors & Officers)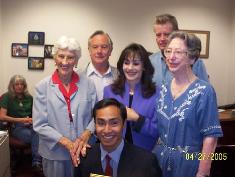 LGDR, TLGDA & Lacy Family Descendants played a large roll in the Blue Lacy becoming the "State Dog of Texas." Story coming soon! Picture to the right include; Lacy Family Descendants Jane Terman, Wayne Cavin, Marlo Riley/Ondrej, Doug Cavin, Helen Gibbs with Representative Juaqen Castro (House Representative that sponsored HCR 108) Page Edited by Dena E. Brown