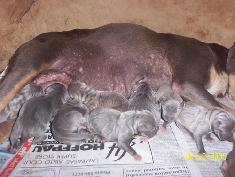 Breeding Lacy's
In a rare breed, it is critical that only those who are knowledgeable about genetics, breeding, and a sire and dam's strengths and weaknesses attempt to breed dogs. Breeding dogs is never to be entered into lightly.
In rare breeds, it is possible to damage a portion of the already limited gene pool by just a few irresponsible and uneducated breedings, motivated by greed or ignorance. Breedings overseen by conscientious, ethical breeders normally have great results. If error is found by a ethical breeder, they take care of the situation by making sure a damaged prodigy is not used for breeding purposes and research what happened to reduce the problem from reoccuring.
There is a great saying, "Just because a dog is purebred doesn't mean that it's well-bred, and just because a dog is well-bred doesn't mean that it should BE bred." Ethical breeders will breed for: instinct, structure, coats, health & temperament. Working versatility would also be included for the Blue Lacy breeding practices.
Please spay or neuter your pets, and leave the breeding to those who have made a life study and commitment to educating themselves about this breed, and sound, ethical breeding practices.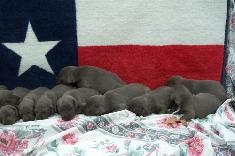 Becoming An Ethical Breeder
For those who feel strongly that they have the commitment, intelligence, skills, time, energy, money, patience, passion, tenacity, housing situation, mental/physical/emotional fortitude, and love for the breed to become a responsible Blue Lacy breeder, it is recommend that before you ever breed a dog you begin your education by:
Becoming A Student Of Dogs: Responsible breeders are experts in all aspects of dog husbandry. They continuously educate themselves about structure, anatomy, purpose, health issues, kennel maintenance, conditioning, animal behavior, training methods, and type. In order to understand their own breed, they learn about other similar breeds. Go to workshops. Talk to and learn from as many respected "dog people" in all areas of endeavor as possible. Establish relationships with those who can educate and mentor you. Try not to become a follower of only one breeder or trainer. You will learn more from many people than from only one limited perspective.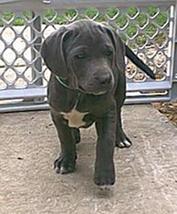 Become a Student of Blue Lacys: Become an active member of the Blue Lacy Breed club. See, meet, and work with as many Blue Lacy's and long time successful Blue Lacy people with dogs from as many different lines as possible. Attend events and shows where the Blue Lacy's can be included. Watch and participate with other Blue Lacy owners in TLGDA and LGDR Events. Study the breed standard. ASK QUESTIONS ABOUT INTERPRETATION. Read books about other herding and cur breeds, and understand the differences in type, hunting style, temperament, coats, purpose, etc. Understand the history of the Blue Lacy breed and working dogs at the time they were originated.
These are critical steps in becoming a ethical breeder who is dedicated to doing your part in maintaining the Blue Lacy breed. It takes a great deal of time and effort to develop an eye for correct type and structure, an understanding and appreciation of what a hunter on foot needs in a versatile hunting companion, a gut feel for the correct personality and style of a Blue Lacy, and a passion for the breed.
This article was modified to suit the breeding information regarding the Blue Lacy. You can find the article this information was pulled from at http://www.awpga.com/breeding.htm
Edited By Dena E. Brown